06 October 2008
Sarah Palin: the porn epic
Lisa Ann, pictured left, who retired from the porn flick world in 1997 has agreed to make a cumback and will star as Sarah Palin in the Larry Flynt porno epic
Nailin' Palin
.
Nina Hartley
has also decided to cum out of retirement as well to play Hillary Clinton. No word yet on who will play the part of Condaleeza Rice, but the Exile can confirm that the script does call for a threesome between them.
This milestone in cinema history will look at Sarah as a young girl when her creationist science teacher gives her a big bang to remember. Then as Governor of Alaska she will be shown nailing the Russians that knock on her back door.
The film is due to be released just before the election in the hope of creating lots of erections and readers of this blog can rest assured that links to where it can be downloaded will be provided just as soon as they become available.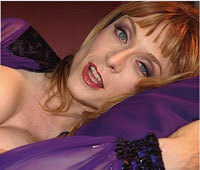 Labels: Sarah-Palin-02, Sleaze-02
posted by Ken at
7:45 am